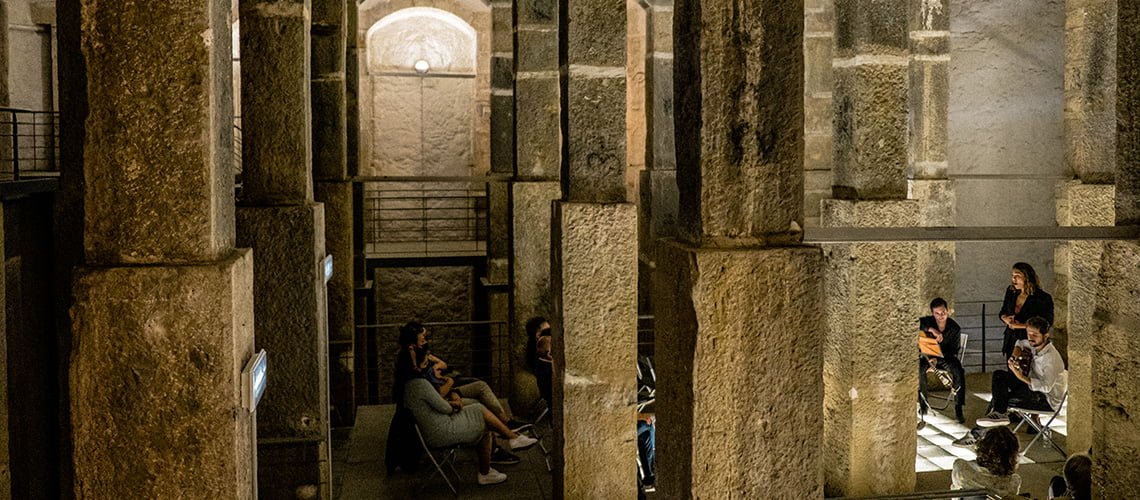 UNDERGROUND FADO EXPERIENCE
Fado is the Urban Popular Song of Portugal and was declared Intangible Cultural Heritage by UNESCO in 2011. This unique performance genre incorporates music and poetry and the songs represent our country as they merge multicultural influences from Afro-Brazilian descendants, musical traditions from rural areas of the country brought by successive waves of internal immigration and also more cosmopolitan urban ones of the early nineteenth century. Despite being sung across the whole country, Fado is deeply rooted in the traditional neighbourhoods of Lisbon where the traditions are still very much alive.
Usually performed by a solo singer, who is traditionally accompanied by a wire-strung acoustic guitar and the Portuguese guitarra, the typical Fado shows take place at the so-called Fado houses, small taverns/restaurants where both locals and visitors can witness a performance and try some typical Portuguese treats at the same time.
However, we invite you to embark on a more exclusive and underground Fado experience. It starts with a walk along the old tunnels through which water was carried from the hills of Sintra to the center of the city. This water supply chain served both the State's fountains and buildings and also some private houses owned by noble families, which are identified along the way. This route finishes at a wide underground gallery with surprising acoustics where you'll get to take a seat and witness an intimate traditional Fado show before venturing back out to the middle of the garden of Príncipe Real.